Make your Punjabi marriage a larger than life affair by following these shopping tips for brides and grooms. Glad to share some cool shopping ideas based on the customs/rituals involved in the Punjabi weddings from Rokka(Pre-engagement) to Phere (Wedding).
Punjabi weddings beautifully reflect Punjab's cultural legacy that has evolved over thousands of years. If you are the would-be bride or groom, or parents of the couple, a significant responsibility lies on your shoulders to make the wedding stay true to the treasured traditions and rituals of Punjab's colourful culture.
Punjabi weddings thrive on enthusiastic rituals, full of pomp and gaiety and each ritual has its own importance and identity. Here we shed some light on Punjabi wedding gift ideas based on authentic punjabi rituals.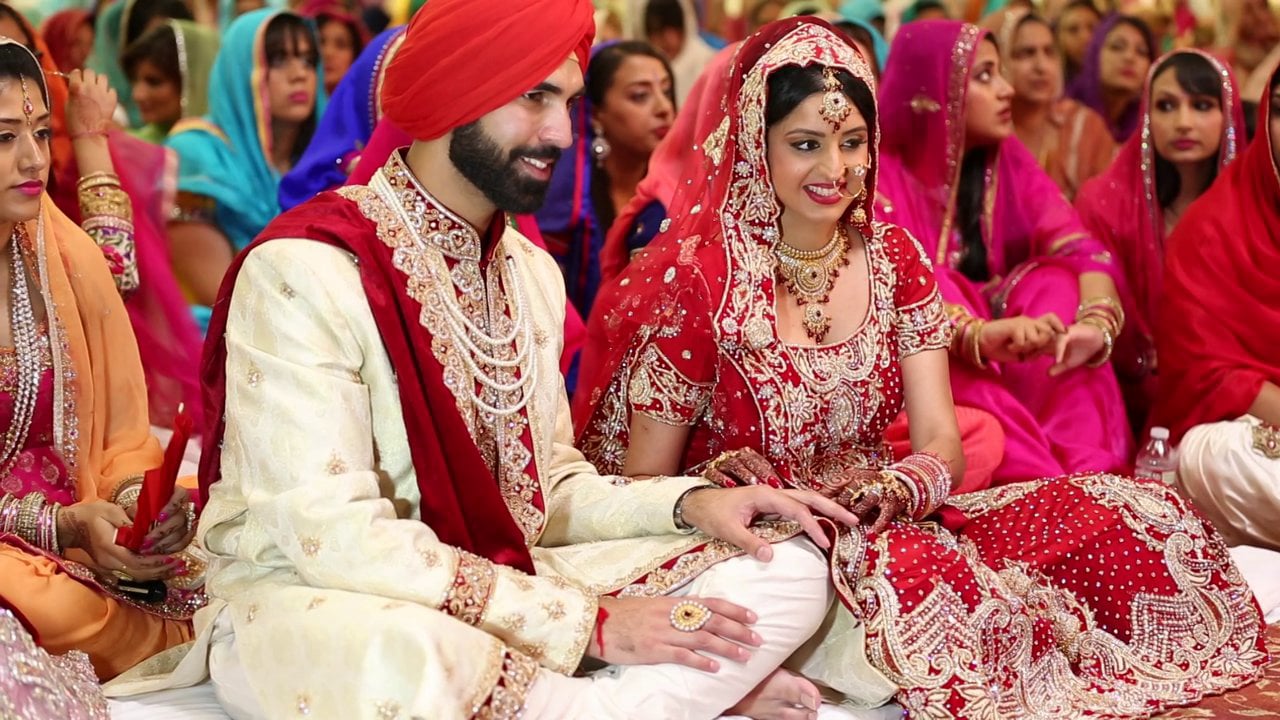 Rokka (Pre-engagement)
Apart from blessings, Punjabi Rokka ceremonies are great occasions for exchanging gifts. The two families go out of their way to shower their blessings; and what better way to express love than through well thought out gifts. Here is a list of cool gifting ideas for the bride and the groom's family to shop:
Gifts for Groom
A grand sporty watch – find out the groom's choice of colour before selecting the watch
New signature perfume – go for the latest one making waves
Creative art – if the groom has a creative bent of mind, pick a beautiful décor art for his office or room
Sports Gear – ideal for fitness freaks
Tickets for his favourite concert or sporting event – plan this one ahead as tickets for popular shows are hard to come by later
Smart, trendy pair of cufflinks
Leather wallet gift set
Gifts for Bride
Ornaments, such as a pair of earrings or a chain – find out her preferences first, whether she loves heavy ornaments or sleeker ones
An elegant handbag or ladies purse/wallet – go for elegance combined with utility
A bracelet watch – something sophisticated and stylish
A jewellery box/organiser – girls love to keep their jewellery organised in one place
A perfumes gift set
A combo makeup set – look for a collection of face care, brushes, eye makeup from a good brand or a brand the bride prefers
Crystals jewellery – trendy ones for formal wear
Sagai/Engagement
In this ritual, a formal commitment is made from both the families regarding marriage. Sagai is a common event. The venue is organized with mutual consensus and both parties bear the cost.
Atikka mark is applied by the bride's father on the forehead of the groom. The tikka paste, along with some grains of rice and saffron are presented on a silver tray and bowl for the ritual.
Gifts are exchanged from both sides with a mix of traditional items and modern gifts. Both bride and groom bring engagement rings for each other.
Traditional gifts for the Groom – A coconut wrapped (traditionally in gold leaf), 14 dried dates (chuharey) wrapped in silver foil.
Traditional gifts for the Bride
Nicely packed jewellery set of Gold/Diamond – rings, necklace, earrings, bangles, etc.
Dry Fruits – Almonds, cashew, kishmish, Pistachio, etc.
Saris – a variety of elegant saris including silk, banarasi, chanderi, etc.
Sweets- Kaju Katli, motichoor ladoo and more
Basket of Fruits – Mango, oranges, grapes, kiwi, watermelon, apple and more
The bride receives jewellery on the occasion from her mother and sister-in-law while some families have a custom of draping the bride in a family heirloom chunni.
Chura
The ritual, observed a day before the Wedding Day, emphasizes on the role of the eldest maternal uncle (Maama) and aunt (Maami) of the bride. Chura is a set of red and cream ivory bangles that is made to touch all the gifts offered by the girl's maternal uncle and aunt.
Common Gifts for Bride Include
Chura or bangles
Kaliras (Umbrella shaped gold or silver ornament attached to the Chura
Ethnic apparels
Bath and beauty accessories
Wedding Outfits
Shopping for the trousseau, whether it's for the bride or groom, is a challenging task. Particularly, the perfect outfits are the toughest to decide keeping in view the latest fashion trends, the body shape,the personality andthe person's own likes and dislikes. All these factors are key determinants. In Punjabi tradition, the groom's outfit is gifted by the bride's family and the bride's bridal wear comes from the groom's family.
As you browse stores, both regular and online ones, you come across the latest trends, the opinions of designers and buyers and, of course, the prices. If you have a good designer among your friends or relatives, take her opinion on what would suit the bride and the groom best.
Popular ethnic outfits for the Groom
Floral sherwani
Jodhpuri-styled jacket with dhoti
Classic bundi kurta set
Achkan style Sherwani
Sherwani with thread buttons and churidar
Elegant and gorgeous Bridal apparel
Silk with gold brocade salwar kameez
Anarkali suits with intricate gold embroidery
Embroidered red Lehenga choli
Bridal lehenga choli– heavy gold brocade and intricate designs
Fuschia pink orange lehenga
Phulkari dupatta
Weddings are not just events. They are family celebrations where all near and dear ones, acquaintances, guests and invitees participate with enthusiasm, each doing his or her bit to make the occasion lively. Gifts are thus talked about, appreciated and admired by both families. Hence, choose your gifts with care and a special thought for the person who would use it ultimately.